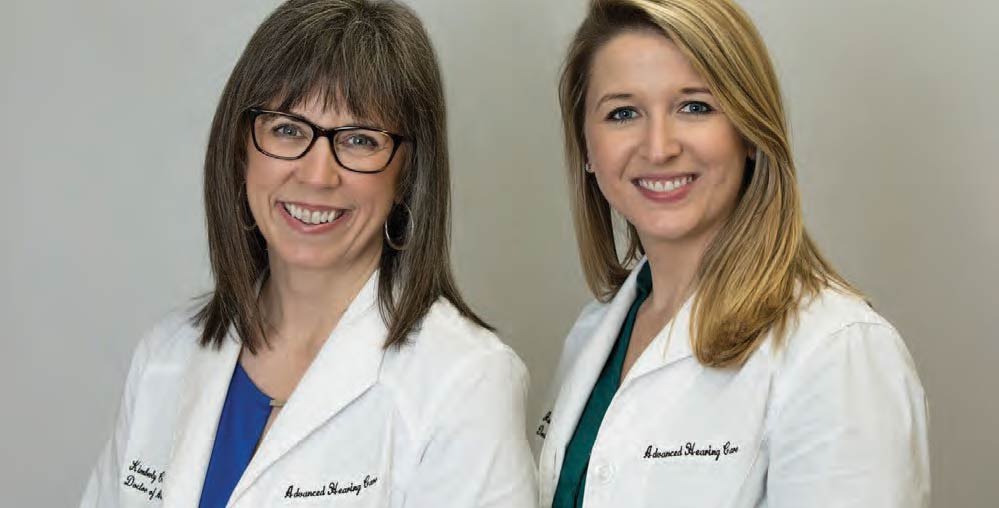 Mount Pleasant Magazine recently lent an ear to the experts from Advanced Hearing Care to learn about new technological advancements in the auditory field and how when it comes to hearing loss, an "ounce of prevention is worth a pound of cure."
One of the most critical aspects to remember about hearing loss is that "it's a medical condition, and it needs to be addressed in a medical manner," according to Advanced Hearing Care Audiologist Dr. Kimberly Combs, who has 26 years of experience in the field.
Most of us may not realize that hearing loss is linked to other health issues such as depression, dementia and heart and kidney disease; these are all associated risks that are correlated with hearing deficiencies, noted fellow Advanced Hearing Care Audiologist Dr. Juliette Gassert. Likewise, your ears are linked to the rest of your body, so eating well, exercising and stress relief all benefit your hearing, too.
"A lot of times people don't realize they have a problem," said Combs.
Instead, they begin to withdraw from activities they once enjoyed and become frustrated with family and friends. In fact, couples have told the audiologists that the hearing devices they received from Advanced Hearing Care have saved their marriages.
"Everyone jokes about how we're audiologists first and marriage counselors second," Gassert quipped.
However, hearing loss is a serious issue, and the problem is compounded when people are in denial about it.
"When hearing loss is not treated properly, the effects are very negative," Combs stated.
While there is an age stigma associated with hearing loss, it's not just an age thing. According to Combs, hearing loss can happen at any age. She pointed out that testing is key, which is why Advanced Hearing Care offers complimentary screenings.
A variety of devices are available today that are tinier and more technologically sophisticated than their forerunners. Hearing devices can link up to your smartphone, and some of them are even capable of learning about your environment.
"They are like mini-computers in your ear," Gassert explained.
Addressing some of the most common myths about hearing aids – that they don't work or are too conspicuous – Gassert and Combs pointed out that most hearing devices are small enough to be hardly noticeable.
The "use it or lose it" theory applies to your auditory system, according to Combs, who said hearing aids are designed to give your brain a consistent signal.
Aging is a major factor in hearing loss, but there are other factors as well, including loud noises, viral or vascular conditions, toxins in the air, heart disease and genetics.
"Genetics play a huge role," said Gassert.
Although your ears can recover from exposure to noisy environments if you give them a rest, Gassert cautioned, "Once your hearing is gone, it's gone. So protect what you have."
Although May is known as Better Hearing and Speech Month, offering a number of opportunities for screenings at health fairs, Combs advised that you can get your hearing tested any time.
By Colin MacCandless
This summer, Advanced Hearing Care will celebrate its 25th anniversary serving Mount Pleasant. Visit www.advhearing.com or call 843-628-4844 for more information.