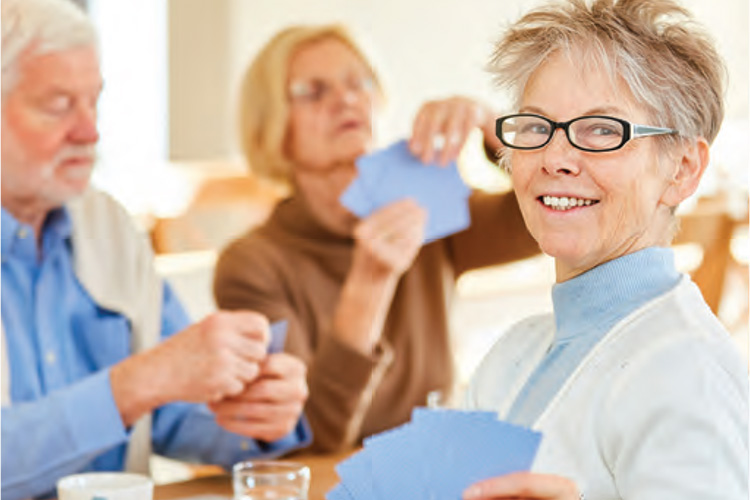 Franke at Seaside is a nonprofit retirement community in Mount Pleasant offering older adults an array of residential options on a single campus.
Active, independent seniors can live among peers in patio homes or rental apartments. As needed, seniors can transition into assisted living, memory care, short-term rehabilitation and long-term skilled nursing services.
"We are a continuing care retirement community, so the idea is that our residents transition through various levels of care on campus as their needs change," said Allison Macfie, community outreach director.
For active seniors, living at Franke means more time to do the things they enjoy. That's because home and grounds maintenance, housekeeping and laundry are no longer chores on their to-do list. They can also cross cooking off the list, if they choose, and instead dine at upscale and casual dining venues located on campus.
With their spare time, residents can socialize with neighbors; join a fitness class, art class or Bible study; attend an educational talk; or visit the library or hair salon – all on campus. They can also find nearby shopping, beaches, sporting events and cultural events in the Mount Pleasant and greater Charleston communities.
Residents who need assisted-living or memory-care services will find a team of health care providers at Franke at Seaside who collaborate with their doctors to find the right balance of independence and attention. The community offers social, recreational and educational opportunities specifically for seniors who need assisted-living services, including cooking, fitness and virtual travel classes.
Staff will help residents living with dementia or Alzheimer's by learning their individual stories and blending them into life-enrichment programs. The team will support residents at all stages, including hospice care, through Lutheran Hospice.
Franke at Seaside's rehabilitation services help seniors recover through a combination of nursing; nutritional care; physical, occupational and speech therapy; social services; and recreational opportunities. Franke offers a place where older adults can gain confidence and strength after a hospital stay due to surgery or illness.
By choosing a continuing care retirement community like Franke at Seaside, seniors can enjoy each day of their retirement knowing that a system is in place, right where they live, to take care of them if their health unexpectedly changes.
Franke at Seaside is one of several Lutheran Homes of South Carolina communities. The Franke Community, home to about 350 residents, offers "vacation stays" for prospective residents to check out the lifestyle and amenities and interact with current residents.
"Our community is open to anyone who would like to be part of the Franke family," Macfie said.
By Ashley Fletcher Frampton
For more information on Franke at Seaside, visit www.frankeatseaside.org, or call 843-216-2222.