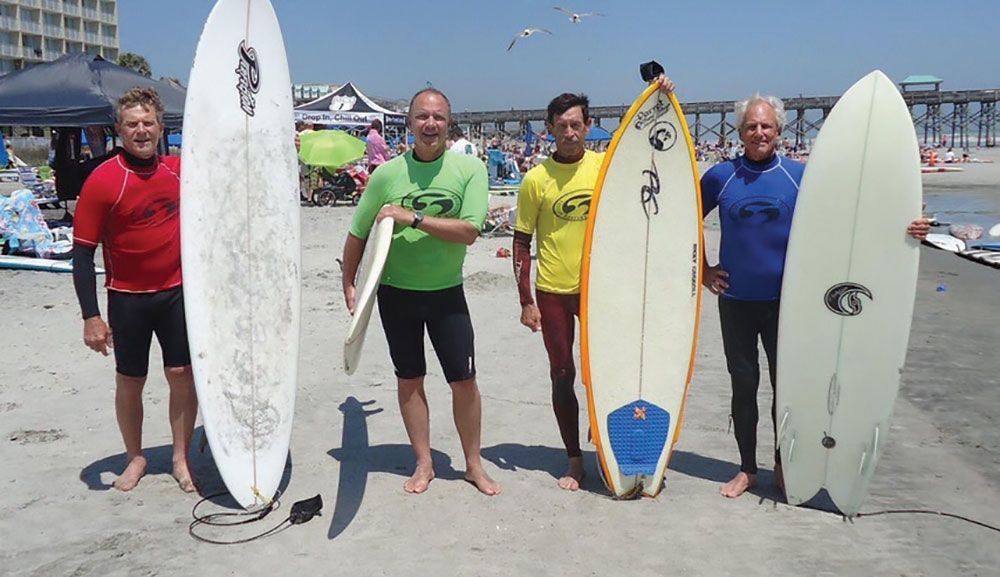 Ask anyone at random to name 10 attractions known to the Charleston area. Chances are, not even one says surfing the Atlantic. The often calmer tides of the Southeastern United States tend to get overlooked, but that doesn't mean there isn't a culture of boarders lingering just beyond the whitecaps. While the sport has long been practiced somewhat under the radar, it now brings growing numbers of surfing enthusiasts and competitors from all along the East Coast— thanks in part to the tireless efforts of Charleston surfing legend and ambassador Norman Godley.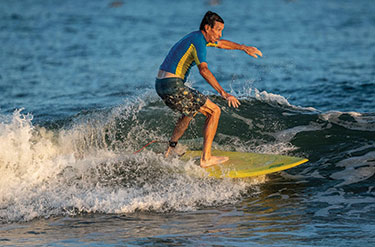 Whether he's competing, judging, mentoring, speaking or just repairing dings in surfboards, Godley will not only make you want to take up the sport, but he will also show you how it is right at the edge of moving into the spotlight at Charleston beaches.
"Surfing here is more popular than ever before," said Godley, now celebrating more than five decades of competition. "And while I am now what you might call a senior grand legend, I still enjoy going to the contests and judging and promoting the events any way I can."
Godley's approach is perhaps his biggest asset. Though he is now 67, his attitude toward himself and other older surfers is something akin to "we're getting younger all the time."
"The best part of my day is getting out for walk on the beach and watching the younger kids surf— mind-surfing, I call it," he said with a smile. "There's nothing like being on a board and spending all day trying to beat the waves."
That's how it's been for Godley since age nine, when he and his friends had to borrow surf boards from their older brothers and beg for a ride to the beach.
"My first surfing event was the Sun Fun Festival in Myrtle Beach in the early 1970s," he said.
Since then, Godley has competed in more than 65 contests, and continues to add to his impressive honors, which include:
Three-time winner of the Governor's Cup at Folly Beach.
2014-15 back-to-back Mid-Atlantic Surfing Championship in short board division (at age 59).
Second place in the 2017 Mid-Atlantic Surfing Championship at Nags Head, North Carolina.
12-time finalist in East Coast Championships.
Former Captain of McKevlin's elite surf team in the early 1980s.
Lifetime membership in the Eastern Surfing Association.
Honorary DJ McKevlin award in recognition of support of local surfers.
Godley's last competitive event was the 2017 Mid- Atlantic Surfing Championships, when he was in his early 60s. This win at Nags Head was only two years after fracturing his neck in a freak accident that left him with partial paralysis, restricted breathing and difficulty swallowing. His neck was fused together, his face took an off-color tint, and a titanium plate was placed and then removed from his body.
"It took me a long time to heal, with physical therapy and repairs at MUSC," he said — but he obviously never stopped.
Now in the rarified classification of "Grand Legends," Stormin' Norman also works part-time with Ocean Surf Shop and Parrot Surf doing surfboard repair— and keeps a board with him at all times, just in case the waves happen to be right.
"I got the name Stormin' Norman from chasing storms up and down the coast," he said. "The storms are where you get your biggest waves."
When asked his main attraction to surfing, Godley said it is the same now as it was when he was a teenager: "It's all about the freedom of the ocean and being able to do what you want when you're out there with your friends. You feel like you're a part of the ocean because you've been around it all your life. And among millennials, we now have surfing camps that bring kids up in the surfing community—and it's great to see that."
So what's next for the Lowcountry surfing legend? Godley said it really doesn't matter, as long as "there is a beach, a board and a wave."
"I've been surfing a long time and hope I never have to stop," he said. "And if you've never surfed before, my advice is to get some lessons, then grab a few friends, and give it a try. Once you do, you'll probably be a surfer for life."
In 1963's timeless words from Jan and Dean, "Surf City, here we come!"
By L. C. Leach III