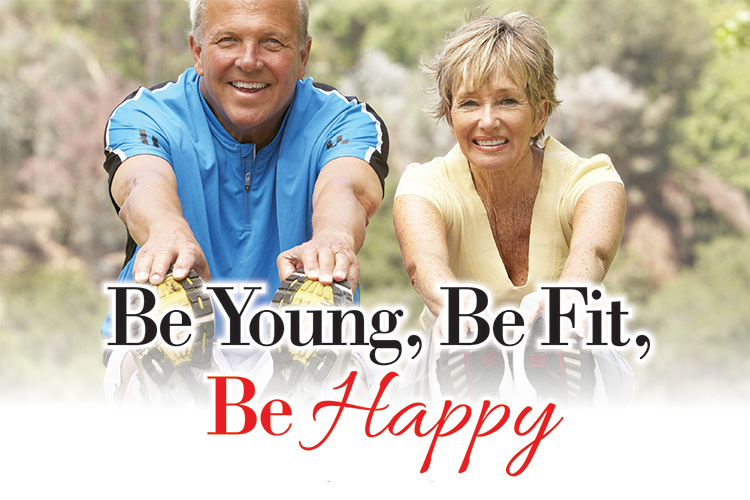 Comedian George Burns once famously said, "You can't help getting older, but you don't have to get old." He made a good point; health and exercise are a major component of the foundation to live longer, so why should new and fun ways to get a workout be reserved for millennials?
Today, seniors across the Mount Pleasant community have a lot more than bingo and mahjong to keep their muscles strong, their bodies balanced and their minds sharp.
"I see a real need for the baby boomers like me to stay in shape physically because it's so crucial – you've got to keep moving to stay healthy, and it's crucial to connect with other people. They're both very important," said Marie Keller, a cardio dance and exercise instructor at the Mount Pleasant Senior Center.
Her class, "Body Works By Marie," is geared toward women 55 to 75 and combines light aerobics and mat work with yoga to burn fat and sculpt without risking muscle injury. The class' impact reaches much further than simply exercise. The camaraderie of the class creates a social bond among the participants that improves mental health and has been so successful that she has brought a similar version of the class to Seacoast Church.
"I've been teaching at the Senior Center for seven years, and my class there has established a strong following of women. It's like a sorority – we laugh a lot in class. I am teaching exercise but constantly talking; we have joke time before we do planks. Women that come there look forward to connecting with each other and getting a good workout and having fun," she said. "We call ourselves 'The Recycled Teenagers.' We do things outside of the exercise class together, and, if someone needs something or a husband passes away, we gather together. The bond we form is just as healthy as the exercise itself."
Mount Pleasant's Senior Center offers plenty of other unique ways to get a workout. Find your Zen through yoga and Pilates, which incorporate breathing and core strength in different ways, or Barre class, which blends ballet moves with yoga and Pilates. Nia, initially an acronym for non-impact aerobics, combines martial arts, yoga and dance to improve mind and body strength.
Kick up your heels in dance classes such as tap, line dancing or Zumba, which is set to Latin rhythms. If you've never played pickleball, it's not too late to learn; classes on the sport that combines tennis, racquetball, badminton and table tennis range from beginner level to both indoor and outdoor play.
Senior living communities also offer fun ways for their residents to get moving while connecting with other people, being social and keeping up mental as well as physical endurance. Many of these classes are specifically designed to be safe for people with varied abilities.
"We have a dance instructor who teaches our residents dances they can do either standing up or in their chair, and they love it," said Laura Nagelberg, director of lifestyle programs for Somerby Mount Pleasant. "It's similar to Zumba but has a unique twist, and it's always changing – from jazz to Hawaiian music and so many other genres – it never gets boring. These dancers' brains are constantly being challenged to learn and move differently."
Somerby Mount Pleasant offers ball core, cardio/dance and water aerobics classes – all with energetic instructors – and is considering adding more of the most popular exercise classes, such as tai chi and yoga. Somerby plans to incorporate fun elements to keep the activities fresh.
Recently, residents had the opportunity to try conductorcise, which incorporates music, brain stimulation and movement designed to relieve stress, improve stamina and lose weight. Members of the Somerby community loved the classes so much that teachers are being trained to lead them on a regular basis in the future.
"We really try to keep things interesting and focus not only on maintaining but improving the lifestyle of our community members," Nagelberg continued. "The trendier classes, such as those that incorporate dance and memory, like conductorcise, are very welcomed, and the residents find that the classes are fun and don't feel like exercise. Continuing to move – at whatever level you are comfortable – is the key to longevity and health."
Franke at Seaside, a continuing care retirement community, offers its residents a variety of ways to get active, from trendier tai chi, yoga, aquatic exercises, bocce and croquet to more leisure activities like off-campus walking groups. Their line dancing classes are geared toward helping residents learn some of the latest dance trends so they can participate in their grandchildren's wedding receptions.
"Our Life Enrichment calendar keeps seniors moving, encouraged, motivated and at the top of their game," said Lisa Smith, director of life enrichment – active lifestyle at Franke at Seaside. "Our calendar is resident-driven, and it's great to give them these opportunities to make life interesting while keeping their minds and bodies in shape."
Whether you plan to channel your inner Latin American dancer, unleash your fiercest downward dog pose or smash some shots with the pickleball paddle, the Mount Pleasant community – in the spirit of George Burns – offers abundant options to keep you from getting old as you get older.
By Anne Toole