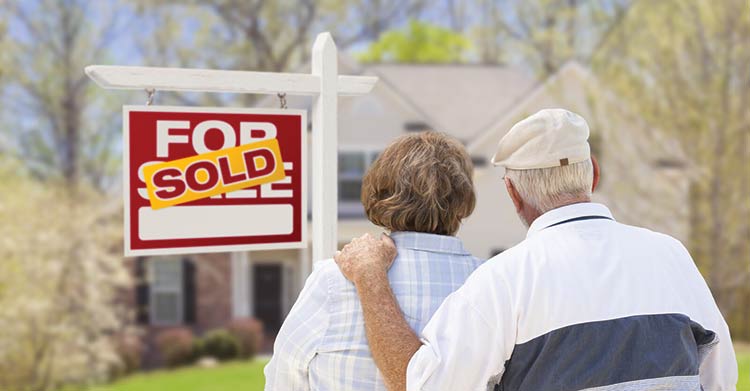 Buying or selling a home is one of the most significant life decisions you can make, and you want to ensure you are working with the right people to help you meet your specific needs as you age. When it comes time to select a Realtor®, consider using one with an SRES® designation, which stands for Seniors Real Estate Specialist®.
To acquire the designation and become a SRES certified agent, a Realtor must pass a two-day SRES training course offered by the National Association of Realtors. The course is geared toward real estate agents who want to learn how to improve their proficiency in serving retirement-age homeowners interested in "buying, selling, relocating or refinancing residential or investment properties."
SRES agents are specially trained to understand all the options that would make the most sense to homeowners ages 50 and older, including the pros and cons of reverse mortgages and retirement real estate investment. Moreover, they have the expertise to tailor an approach to each individual's unique life-after-retirement situation and offer senior homebuyers guidance on how to most efficiently and effectively navigate the process.
Additionally, they are well-versed in federal regulations such as the Housing for Older Persons Act (HOPA), which establishes guidelines impacting senior housing and senior communities. Another advantage to hiring an SRES agent is that he or she will understand how to factor in government programs such as Medicaid, Medicare and Social Security, as well as 401(k) accounts, pensions and IRAs and how these factors can influence real estate transactions.
Ginni Field, a Realtor, trainer and motivational speaker in California who has taught the National Association of Realtors SRES course for the past 12 years, says the most important quality a SRES designee can provide is sensitivity.
"Having a mindset of being of service to that senior. It's not about the money. The people working in this business have to have passion and sensitivity."
Field, who has worked as a Realtor for 34 years and conducts speaking engagements across the country, states that she will only refer seniors to someone who knows how to work with that marketplace.
In the SRES course, agents are instructed not only on the different types of senior housing and the basics of selling to homeowners ages 50 and up, but they also learn about family dynamics: Has there been a loss in the household of the spouse or person who handled the financial matters? Will you be dealing with a child or grandchild from another generation when it comes time for the real estate transaction? These are all significant matters and questions that the SRES training takes into consideration.
Realtors with a SRES designation are also taught how to work with senior home sellers on downsizing — moving to a smaller residence that better fits their current needs and makes more sense financially — all while appreciating that a long-held home still has strong sentimental value to its owner(s).
Field asserts that the emotional piece is a critical one. One of the most important aspects they teach in the SRES course is that it takes a lot of patience. It entails reviewing expenses and addressing what Field calls the "fear factors."
A SRES will understand that an older homeowner might be afraid of making a decision that he or she cannot undo, as that person may be on a fixed income and apprehensive about running out of money. As part of the SRES course, Realtors are trained on how to be a comforting presence and how to help patiently guide seniors through these difficult, heart-rendering decisions.
"You touch someone's life in a different way when you work in that market," said Field. "It's a unique course."
Furthermore, a SRES-designated agent will know the features that older homeowners will be looking for in a home and can customize a plan for their future. For those individuals content to remain in their current residence, a SRES can also recommend an aging-in-place specialist who can evaluate the home and suggest safe and comfortable modifications that can adapt the home to changing needs as a person ages, such as senior-friendly bathrooms and wider doorways and entryways.
Retirement communities may be another option to consider, and a SRES will be able to counsel on the advantages and disadvantages of senior-based housing, including which neighborhoods have been built under a universal-design concept (high functionality built for an aging-in-place dynamic).
An example of universal design, says Field, is a company like OXO's Good Grips series, which creates items that are easy to use and do not put any pressure on a person physically. For instance, there is an entire series of kitchenware that is geared toward people with arthritis. Another universal-design approach would be a kitchen with ranges featuring front, as opposed to rear, controls to aid people with poor eyesight. The idea behind these products is that they assist older individuals in maintaining their independence.
A SRES can save you time and money by directing you to existing programs and resources for financial assistance available to seniors of which you may have been previously unaware.
Field notes that one of the facets of the SRES course is that it helps real estate agents build a resource bank of team members so they can advise on accessing an extensive network of reverse-mortgage counselors, estate planners, attorneys, home inspectors, accountants, declutter specialists and moving and packing services. Perhaps just as importantly, a SRES is trained to identify mortgage and loan schemes aimed at scamming seniors.
They recognize that seniors may not want to communicate through channels such as email or cellphone and instead prefer to conduct business in person or over a landline phone. Bearing this in mind, a SRES will execute real estate transactions via whatever methods seniors feel most comfortable.
For more information on the benefits of a Realtor with a SRES designation or to find a SRES designee near you, visit sres.realtor/work-sres-designee/why-use-sres.
By Colin McCandless