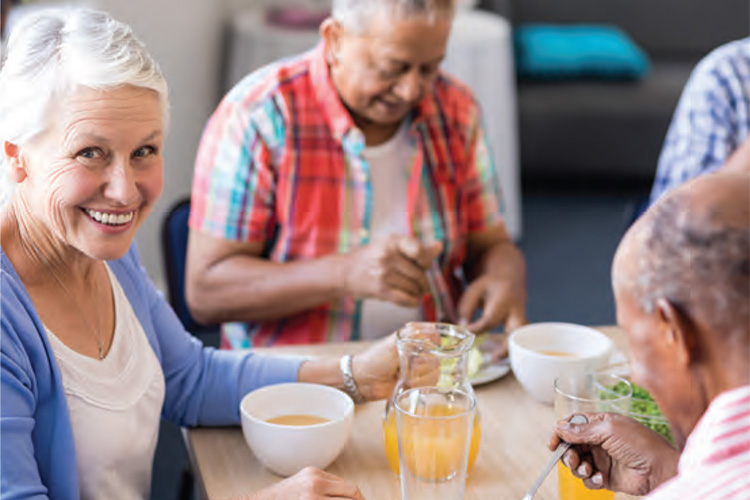 The transition to assisted living for a senior citizen can be challenging enough, for the individual as well as the family. When additional care needs arise, being able to accommodate those needs at one facility eases additional stress that could adversely impact potential residents and their family members.
Fortunately for seniors in the Lowcountry, there is Wellmore of Daniel Island, which offers assisted living as well as transitional care when necessary.
Ashley E. Seeds, executive director, said moving from assisted living to a higher level of care can be difficult, and Wellmore of Daniel Island eliminates such challenges.
"You're staying within our community. It's not a difficult move across town or to a completely different environment," she said.
Wellmore of Daniel Island, which opened in April, is located next to the Daniel Island Club and offers assisted living, secure Alzheimer's and dementia care, and skilled nursing. In the very near future, they will begin offering short-term rehabilitation care.
As new residents begin their transition to Wellmore, the staff and family work together to personalize the best environment for each individual. The staff conducts an individualized care plan meeting, where they determine what needs may be paramount, such as medication, dressing and dining.
"We spend a lot of time with the family and the resident just doing discovery," Seeds said.
And while the facility is assisted living, Seeds said they understand that "assisted" can mean different things to different residents.
"Some people want very little assistance, and some people want a lot, so we try to cater to that," she said.
One consistency they have found, Seeds said, is the desire for top-notch dining options. To that end, Wellmore offers a restaurant-style dining room, as well as a pizza oven, dessert facility and full bar.
"We try to keep it exciting and not allow the dining program to get boring. We want families to come and spend time with their loved ones," she said.
Residents are also active participants in the management and direction of Wellmore, including a resident council that meets monthly with various department representatives to ensure all residents' needs are being addressed, from dining to recreation to maintenance and more.
"We're very lucky to have a unique and wonderful group of residents and fantastic team that wants the input of our residents," she said.
While the assisted care does resemble independent living, staff members monitor and assess if residents' needs begin to shift toward more acute care. Seeds said the staff members view the residents not as simply tenants but as something far more dear to them.
"We form such close relationships with our members. You really do become like family," she said.
By Mike Gibbons
Wellmore of Daniel Island is located at 580 Robert Daniel Drive. For more information, visit www.well-more.com or call 843-566-1000.