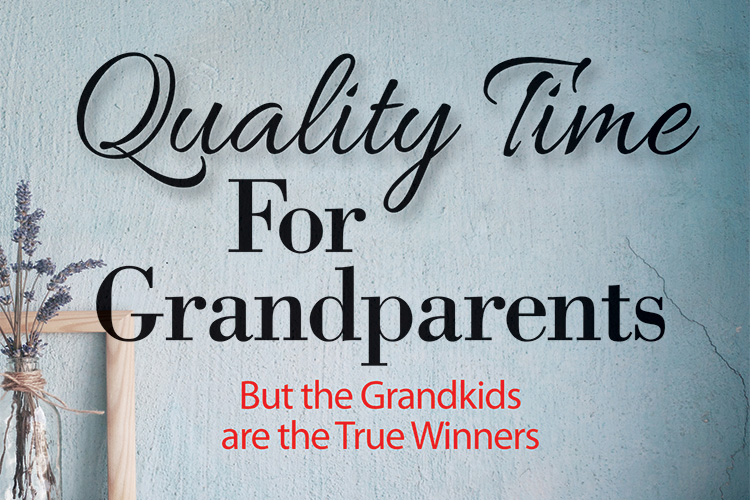 I don't know about you, but, when I was younger, I always knew that time with my grandparents meant a free pass for fun. Not to say everything was fair game, but it's safe to say that I always knew an extra bowl of ice cream was coming my way. That being said, grandparents deserve the extra special relationship with their grandchildren, free from the normal "rules" set in place by parents. After all, they already did their job, right? Having raised their own children, it's a welcomed freedom for most grandparents to enjoy their little ones in short spurts and with plenty of fun planned for the day.
This precious time spent together has a few extra perks, however, with studies showing that grandparents that are "active" in the lives of their grandchildren have sharpened cognitive skills, increased emotional health and overall endure less stress. Additionally, a 2014 Australian study showed that grandparents who played an active role with their grandchildren – typically caring for them at least a day or two throughout the week – helped to reduce the chances of developing Alzheimer's disease.
As important as the health benefits are, it's the quality time surrounded by the little ones that they love the most, leaving grandparents thankful for the moments together. Donna Burke, a retired registered nurse at the Medical University of South Carolina, said, "It's the thrill of watching everything new with them for the first time. You forget how exciting things can be, but, when I'm around my grandchildren, there's a youthful energy that I love – and it reminds me of when I was their age."
Originally from Philadelphia, Burke spends plenty of time helping to care for her two grandsons, Cayden, 6 and Rylan, 3, here in the Lowcountry. With another grandchild – and one on the way – in Washington, D.C., Burke loves to shoot up North whenever she can.
"It's nice because I already raised my children, so it's not a 24/7 job with my grandchildren, and I don't have to be their disciplinarian. We have fun and enjoy the time together."
Burke also pointed out one more thing that becoming a grandmother has taught her: "When you're a parent, everything is so rushed, and time seems to fly by, but being a grandmom, I get to be in the moment with them – watching, observing and really taking it all in."
For some, however, being a grandparent comes with full-time responsibilities, such as with Mina Moultrie, an asset manager helping her son Reggie raise her now 12-year-old grandson, A.J. Born and raised in Mount Pleasant, Moultrie began caring for A.J. when he was only 18 months old while her son finished his education at Coastal Carolina University before going on to become a chemist. And while Moultrie never got the break she was expecting after raising her two sons, she said she has zero regrets and loves her role in A.J.'s life.
"Children need structure in their lives, so I stepped in when I was needed and have never looked back. I make sure A.J. gets his homework done, completes his chores and is active in athletics, so there's always something to do, but it keeps me young," she explained.
While there's no doubt that A.J. helps keep Moultrie on the move, it's her involvement in his life, along with parenting from his dedicated father, that has helped shape a truly fantastic young man.
"A.J. is a great kid that I have loved building this type of relationship with for the last 12 years," Moultrie said.
Even Mount Pleasant Magazine Publisher Bill Macchio has taken full advantage of the joy, excitement and rewards of being a grandfather to his four grandchildren: Tyler, Liza, Lucas and Liam, who span the ages of 2 to 19.
"It's so awesome to have an extension of your children through your own grandchildren," said Macchio. "One of my greatest joys when I'm around my grandchildren is watching their father, Drew, who is 41, interact with his children and seeing him in action as a parent. Now it's another scene when he's not around, and I get to be with them one-on-one – then it's really fun!"
Reaping the health benefits, enjoying the abundant youthful energy and seizing the opportunity to slow down and embrace the little moments of wonder with their grandchildren all seem to be reasons enough for these grandparents. Their dedication and love is obvious. Still, as thankful as they all are, I can't help but think that with grandparents like these, it's the grandchildren who are the true winners.