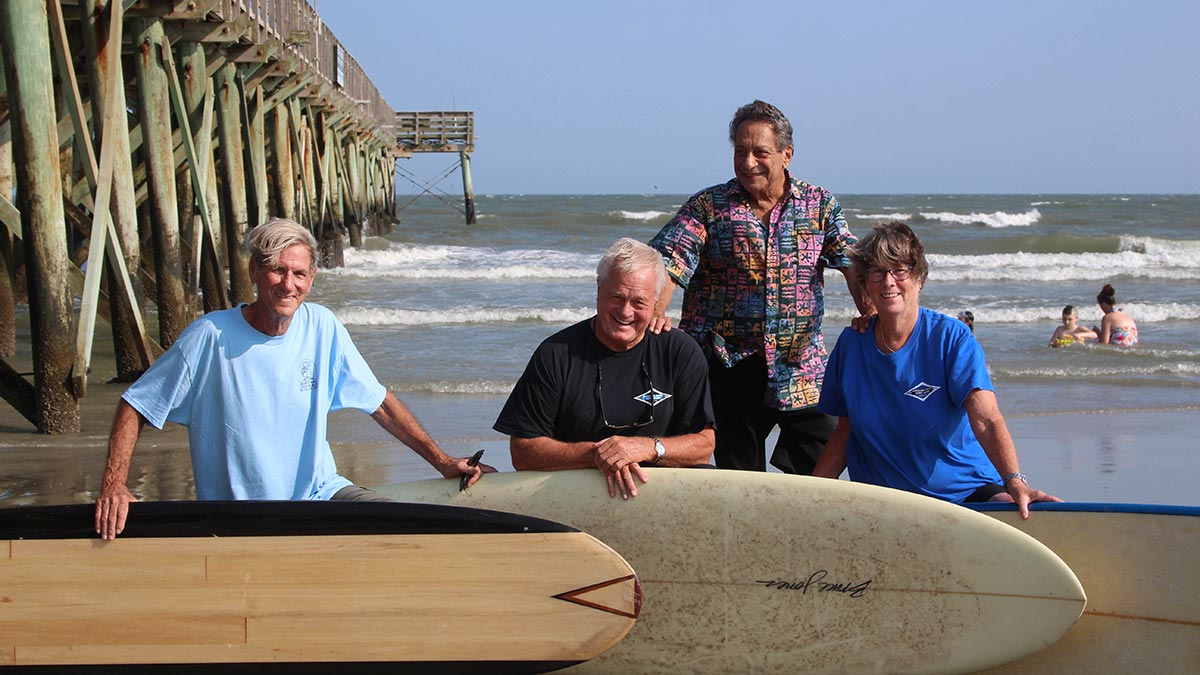 When I was introduced to some of the original members of the Carolina Coast Surf Club, believed to be the nation's oldest active surf club, they had gathered at The Windjammer for a memorial service to celebrate the life of their friend and fellow surfer, Ramon Basha. The tribute featured anecdotes about Ramon's championship caliber surfing prowess — "he really is the best surfer to come out of South Carolina" — and stories of his compassion as a doctor of acupuncture and his affection as a doting father.
One of Ramon's daughters, Amy, stuck in COVID-19 lockdown in Australia, joined via Zoom livestream and delivered a poignant eulogy. "I always looked up to him my whole life. There are not enough words to encompass the wonderful life he lived," she shared. Ramon's brother Bobby, a CCSC member, chronicled Ramon's remarkable surfing style and uncanny ability to switch surfing stances — that is, ride a board with either his left foot or right foot forward. "Every contest Ramon entered in South Carolina and North Carolina, he won," marveled Bobby.
Although its founders were already surfing together in 1962, CCSC was officially started in 1963 by 11 or so wayward teenagers "who didn't know what we were doing," recollected co-founder and Sullivan's Island native Hal Coste, now 74. The group began surfing during the longboard era of the sport, which Coste pegged as roughly 1962-67. CCSC's founding members were all self-taught, learning the sport by reading magazines and watching old surf films on projectors. Coste's first board was a Dewey Weber Performer longboard he ordered from California for $110.
"Surfing to me is spiritual. It's a communion with the environment that I can't get anywhere else."
–Hal Coste, "Board Shorts"
Co-founder Tom Proctor's mom Kitty was considered the "matriarch of the club," always making biscuits and hot cocoa for everybody in the mornings. And when people wrote something negative about them, "she defended us in the papers," noted Proctor, who like Coste, grew up on Sullivan's Island. Proctor rode a 9'2'' yellow Malibu popout that cost around $70. He recalled in those early days, when CCSC members surfed next to the Isle of Palms pier, that a Mr. Thomas who ran the pier bait shop would always be yelling at them while they were out there surfing. But there are no hard feelings. "He was a good man," assured Proctor.
Sally Price and her older sisters Lucy and Nancy, who moved to the islands from Asheville in the early 1960s, were CCSC's only female original members. "I started surfing when I was 11 years old," recounted Sally Price. She relished the camaraderie and road-tripping odysseys to contests at premier East Coast surf spots like Cocoa Beach and Virginia Beach. Despite there being very few women, the Prices always felt welcome. "Hal and Tommy were our big brothers," she reflected. "They were the best."
Sally's sister, Lucy Price Jacobs, remembered surfing all winter, even though they didn't have wetsuits, which were late arriving to the East Coast. The island weather occasionally dipped into the 30s, so CCSC's members combated the cold with fires lit inside 50-gallon burn barrels. Shivering surfers huddled around the blaze for warmth, noses running, "just enjoying every minute of it," proclaimed Jacobs. "We would warm up and head back out."
In 2012, Proctor, Coste and Jacobs were interviewed for a Will Lucas surfing documentary called "Board Shorts." An East Coast surf historian and videographer, Lucas, now deceased, had a prolific career, producing over 200 surf videos and five feature-length documentaries. "Board Shorts" shares a series of vignettes examining the East Coast surfing lifestyle of the 1960s and 70s. During one clip, Coste related how CCSC launched as an informal thing; they appropriated by-laws from a surfing association in Florida and met at Proctor's house, where they would wax their boards.
Coste went to serve in Vietnam in 1967, and Proctor left Sullivan's Island in 1969. When Coste returned from his tour of duty in 1969, the "shortboard revolution had arrived." Its founders didn't like shortboards, and CCSC became inactive. Proctor observed that while the club never officially disbanded, a prolonged dormancy followed as life's responsibilities took precedence.
But the ride wasn't over. In 2001, a few original members, including Coste and Proctor, coordinated a reunion over Labor Day weekend and the club re-organized. By this time, surfing had returned to its roots, and longboards were back in style. "It became respectable to have a longboard again," quipped Coste. Despite the extended hiatus, Coste said they still consider themselves the nation's oldest active surf club.
The club was initially about being rebels but has evolved into more of a family thing, involving kids and grandkids, like the now-annual Labor Day weekend shindig featuring a party, surfing and a formal dinner. And shortboards are now acceptable too. As Proctor remarked in "Board Shorts," it's about "carrying on this legacy of surfing" that began with CCSC. This year's event includes a Sunday "paddle out" in honor of Ramon, a way to celebrate the life of a surfer.
The Price sisters have also been active since the club re-formed. They regularly attend the Labor Day gatherings, enjoying the bonding opportunities with longtime friends, and Nancy Price joined a 2015 club trip to Puerto Rico. "We're in our late 60s and 70s, and we're still close," mused Jacobs, adding that surfing is unique, in that people who start out surfing together often remain lifelong friends.
While less involved today, Bobby attends the Labor Day festivities and occasionally joins members for dinners and social get-togethers, including surf meetups at The Windjammer.
Proctor remains active and is one of four members who alternates filing a daily surf report for CCSC's website. The club still schedules an annual May surfing trip to Cocoa Beach, though the coronavirus pandemic cancelled it in 2020. Additionally, they have planned another Puerto Rico surfing trip for January 2022. The legacy indeed lives on for these area surf pioneers.
"We were the Neil Armstrongs of local surfing," concluded Coste, laughing.